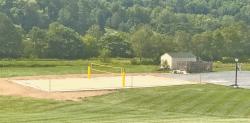 Arkville — The Catskill Recreation Center (CRC) has announced that its sand volleyball court is ready for its first game. The inaugural serve took place at the opening event on Thursday, Aug. 17.
Throughout August, the CRC will host community volley ball games each Thursday evening from 5:30 to 7:30 p.m., and all are encouraged to join. A tournament is being planned for September.
The new volleyball facility would not have been possible without generous donations from the Hubbell Companies, Wadler Bros. Inc., and the Gould Family. "Once again, area partners have expressed their generosity in helping CRC to realize the vision of serving the community through a diversity of recreation opportunities," stated Becky Manning, executive director. "Please come and enjoy the sand, the summer, and the fellowship of friends on August 17," she went on to say.
Please contact CRC to learn more about its facilities and programs at 586-6250 or catskillrecreationcenter.org.