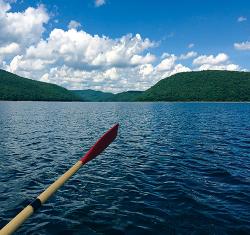 Arkville — Walking the Watershed, a two-year retrospective by Lize Mogel will debut at the Erpf Gallery Friday, June 29. The show will kick off with an artist reception and talk on Friday from 5:00 p.m. until 7:00 p.m. and will run until August 11.
Lize Mogel has spent the past two years learning about the Catskill communities that provide New York City with water. Her long-term project, Walking the Watershed explores the relationship between the communities at either end of the water system. This exhibition features photographs of landscape and infrastructure, taken during her ongoing research.
Mogel is an interdisciplinary artist and counter-cartographer. Her work intersects the fields of popular education, cultural production, public policy, and mapping. She creates maps and mappings that produce new understandings of social and political issues. Her work connects the real history and collective imaginary about specific places to larger narratives of global economies. She has mapped public parks in Los Angeles; future territorial disputes in the Arctic; and wastewater economies in New York City. She is co-editor of the book/map collection "An Atlas of Radical Cartography," a project that significantly influenced the conversation and production around mapping and activism.
The Erpf Gallery is housed at the Catskill Center for Conservation and Development on Rt. 28 in Arkville. For more information, call 845.586.2611