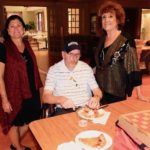 MARGARETVILLE Folks at Mountainside Residential Care Center in Margaretville are enjoying a free pizza meal one day each month thanks for the generosity of a Fleischmanns resident and a local business.
The gesture of kindness was started about a year ago when Sue Paterson was visiting a friend who was a Mountainside resident.
"I love visiting Mountainside and the idea just came to me to do something special for the residents," Sue recalled.
She had the idea approved by the Mountainside administration and then approached George and Chris Zografakis, owners of Oakley's Place in Arkville, asking if she could arrange to purchase 4-5 pizzas for the residents on a monthly basis.
"I was planning to pay for the pizzas myself," Sue recalled. "But, I was thrilled when George responded, 'Any time you want to do this, it's on me.'"
Special event
Sue said some residents are not able to eat pizza due to dietary restrictions. However, the residents who are able to enjoy this treat look forward to the monthly delivery.
Sue and Chris bring the pizzas from Oakley's and assist the Mountainside staff with handing out slices.
"They just light up," Sue commented about residents' reactions to the Pizza Days.
As a special thank you, an extra pizza is included for the Mountainside employees who lend helping hands with the project.
In addition to bringing taste treats, Sue and Chris also spend time socializing with the residents, many of whom have become friends as a result of their visits.
"It's just such a little thing and it means so much," Sue commented. "It's worth everything to me just to watch their faces when the pizza arrives."
Mountainside's Director of Recreational Therapy Donna Rossman said the Pizza Days are anticipated events.
Regarding the most recent delivery, Donna commented, "The residents said that it was very nice and greatly appreciated — and the pizza was delicious! They spoke about it the rest of the evening and most of the residents said they had two pieces."